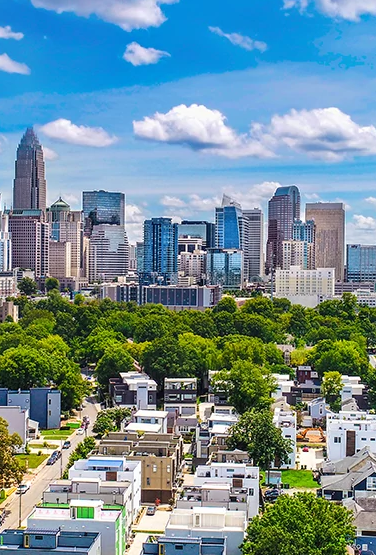 FY2024 Adopted Budget
Mecklenburg County's FY2024 budget totals $2.36 billion, an increase of $156 million or 7.1% over the FY2023 operating budget.
On Tuesday, June 6, the Board of County Commissioners adopted Mecklenburg County's budget for Fiscal Year 2024, the primary theme of which is to maintain current services and invest in people. Mecklenburg County has been steadfast in its commitment to residents and, in recent years, has launched unprecedented efforts to support the community. The FY2024 budget totals $2.36 billion, an increase of $156 million or 7.1% over the FY2023 operating budget. The budget sets a property tax rate of 47.31 cents per $100 of assessed valuation. For the past four fiscal years—2020 through 2023—the tax rate was maintained at 61.69 cents. Following this year's property revaluation, the revenue neutral tax rate, which would generate the same revenue as last year, was 45.71 cents.
$596.9M
Investment in Charlotte-Mecklenburg Schools
$45.2M
Investment in Central Piedmont Community College
Funding for the Board's Priorities
$961,000
Early Childhood Development
$41.3M
Education Attainment
$60.2M
Environmental Leadership
$4.1M
Workforce Development
Capital Improvement Plan
In Fiscal Year 2024, Mecklenburg County will launch its new five-year rolling Capital Improvement Plan, also known as the CIP, which will be revisited annually to best manage County resources. The adopted CIP is $4 billion and will address the infrastructure needs necessary to meet the demands of a growing community. The plan includes 30 projects for Charlotte-Mecklenburg Schools at a cost of $2.5 billion. The CIP also includes 59 County projects at a cost of $1.5 billion which will help address needed updates to aging facilities, build new facilities, continue our commitment to parks and recreation facilities, and most importantly position the County to provide integrated service delivery to those that need critical health and human services in this community. The CIP invests in our courts and detention center, schools, our community college, and libraries. We will also continue our commitment to bringing County services directly to our residents through the expansion of our community resource center model.
Charlotte-Mecklenburg Schools

30 projects totaling $2.5 billion. Projects include new schools, and renovations and expansions at:

12 elementary schools
7 middle schools
10 high schools
1 new athletic complex

The CIP assumes a school bond referendum of $2.5 billion to finance these projects that will be approved by voters November 2023

10 projects totaling $809 million dollars which include:

Upgrades to the camera system at the courthouse
Renovations at the former Civil Courts building M
odernization of the Detention Center
Continued strategy of providing human services to residents where they live and work by constructing Community Resource Centers in the Southwest and East portions of the County

Charlotte Mecklenburg Library

 8 projects totaling $146 million, including:

Continue construction of the new Main Library in uptown
Relocations and expansions of the Sugar Creek and West Boulevard branches
Renovation of ImaginOn
New branch on Nations Ford Road

Central Piedmont Community College

 4 projects totaling $107 million including:  

A new state of the art public safety training facility that will infuse the workforce development landscape with a needed resource for the next generation of public safety employees

37 projects totaling $448 million including:

Seven greenway projects.
Upgrades to several rec centers, parks and nature preserves 
Dredging at Park Road Park and Freedom Park lakes
Investments in basketball courts, trails, pickleball courts and skate parks
New park at Eastland Yards  
Revenue Categories
Revenue from the State of North Carolina, which funds various health, mental and social services, and State lottery funds.
Consist of revenue from the Federal Government, which primarily funds health, mental health, and social services. 
Available funds appropriated in FY2024 to fund one-time investments in various county priorities.
Revenues from user fees such as parks, landfill, storm water, health user fees, and others.
Revenues from rentals, transient occupancy tax, sale of properties, and other revenue sources like fire and law enforcement service district tax revenue.
The second largest source of revenue, representing 19.8% of total revenue in the Adopted Budget.
Represent over half (56.3%) of the total revenue for the Adopted Budget. The County tax Rate is 47.31 cents per $100 of valuation.
Expense Categories
 Funding for facility management as well as other capital including land, vehicles, and enterprise technology.
Includes funding for the Consolidated Health & Human Services agency, and MEDIC. Also includes funding for the County's affordable housing program fund.
Includes funding for CMS & CPCC operating and debt, as well as Charlotte Mecklenburg Library and MECK Pre-K.
Includes funding for Parks & Recreation and LUESA, as well as the County's Environmental Leadership Action Plan.
ncludes funding for the Mecklenburg County Sheriff's Office, Criminal Justice Services, and the Medical Examiner's Office.
Funding for Financial Services, County Assessor's Office, and Tax Collector.
Funding for administration and internal support for the County, including Information Technology, Public Information, Human Resources, Legal, and the County Manager's Office.
Includes funding for Elections, Register of Deeds, and Office of Economic Development..